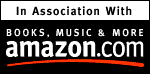 In association with amazon.com - The world's largest bookstore, we are proud to present our online bookstore. Our partnership with amazon.com gives you our visitors access to any book within minutes. The books are shipped* directly to your door at or below the publisher's suggested retail price.
Please browse our selection of books for sale. Besides genealogy books we have several other topics available including cooking and gardening. Look for more topics to come in the future. The Our Picks page has some books we feel would be beneficial to you.
So far

bookworms have chewed on our pages.
William G. Hartley / Paperback / Published 1998
Our Price: $9.60 ~ You Save: $2.40 (20%)
Reinhard Klein, Reinhard Klien / Paperback / Published 1997
Our Price: $13.59 ~ You Save: $3.40 (20%)
Read more about this title...
Katherine Ayres / Paperback / Published 1997
Our Price: $3.19 ~ You Save: $0.80 (20%)
Read more about this title...
Noel M. Elliott (Editor), Noel M. Elliot / Hardcover / Published 1996
Our Price: $17.47 ~ You Save: $7.48 (30%)
Jeane Eddy Westin / Mass Market Paperback / Published 1990
Our Price: $4.76 ~ You Save: $1.19 (20%)
Charley Kempthorne / Paperback / Published 1996
Our Price: $12.76 ~ You Save: $3.19 (20%)
Read more about this title...
Simon During / Paperback / Published 1992
Our Price: $24.99
W.T.R. Pryce (Editor) / Paperback / Published 1994
Our Price: $19.95
Read more about this title...
Ruth Finnegan, Michael Drake (Editor) / Paperback / Published 1994
Our Price: $19.95
Noel C. Stevenson / Paperback / Published 1989
Our Price: $18.80
Lois C. Gilmer / Paperback / Published 1988
Our Price: $18.00
Elizabeth Petty Bentley / Paperback / Published 1995
Our Price: $34.95
Read more about this title...
Emily Anne Croom / Paperback / Published 1994
Our Price: $13.59 ~ You Save: $3.40 (20%)
Read more about this title...
Sharon Debartolo Carmack / Paperback / Published 1998
Our Price: $14.39 ~ You Save: $3.60 (20%)
Raymond S., III Wright / Hardcover / Published 1995
Our Price: $45.00
Read more about this title...
Lee Quinby (Editor) / Paperback / Published 1995
Our Price: $19.95
Read more about this title...
Elizabeth L. Nichols / Paperback / Published 1997
Our Price: $10.36 ~ You Save: $2.59 (20%)
Elizabeth Powell Crowe / Paperback / Published 1997
Our Price: $19.96 ~ You Save: $4.99 (20%)
Read more about this title...
Matthew L. Helm, April Leigh Helm / Paperback / Published 1998
Our Price: $19.99 ~ You Save: $5.00 (20%)
Read more about this title...
Sharon Debartolo Carmack / Hardcover / Published 1997
Our Price: $18.20 ~ You Save: $7.80 (30%)
Read more about this title...
Ralph Roberts / Paperback / Published 1997
Our Price: $10.36 ~ You Save: $2.59 (20%)
Read more about this title...
Elizabeth L., A.G. Nichols / Paperback / Published 1992
Our Price: $7.16 ~ You Save: $1.79 (20%)
Emily Marlin / Paperback
Our Price: $11.96 ~ You Save: $2.99 (20%)
Lila Perl, Erika Weihs (Illustrator) / School & Library Binding / Published 1989
Our Price: $14.40 ~ You Save: $1.60 (10%)
Read more about this title...
Lila Perl / Paperback / Published 1990
Our Price: $6.36 ~ You Save: $1.59 (20%)
Read more about this title...
Artemis P. Simopoulos, et al / Paperback / Published 1995
Our Price: $11.96 ~ You Save: $2.99 (20%)
Read more about this title...
John H. Hampsch / Paperback / Published 1989
Our Price: $6.36 ~ You Save: $1.59 (20%)
Robert B. Pamplin, et al / Hardcover / Published 1994
Our Price: $17.47 ~ You Save: $7.48 (30%)
Read more about this title...
William Latham / Paperback / Published 1994
Our Price: $10.36 ~ You Save: $2.59 (20%)
American Genealogical Research Institute. / Paperback / Published 1975
Our Price: $5.56 ~ You Save: $1.39 (20%)
Read more about this title...
Angus Baxter / Paperback / Published 1994
Our Price: $16.95